Put more ease and creative flow into your marketing with my Passion Pop intensive and rediscover your business passion!
Suffering from feast and famine cycles in your cashflow? You know you've got to get more regular with your marketing but somehow there's never enough time. Or maybe you feel like you just can't prioritise your own marketing.
Most of us use sight reasons such as; no time, not a priority, it didn't work well in the past or I am not comfortable putting myself "out there".
A common theme when working with entrepreneurs is judgment of themselves or their results based on spasmodic marketing efforts. Once I dug a little deeper with my clients what I found surprised me. What they really lacked was creative inspiration due to low or absent brand passion. They were unable to tap into their brand passion when they needed it or had forgotten it all together.
Without this passion you lack the inspirational fuel needed for creative consistency and content confidence.
My Passion Pop Intensive will fuel your content creating for the next 3 months!
After a Passion Pop session, savvy business owners find themselves with an abundance of creative ideas, and a content flow that they don't want to stop. One session generates enough creative fuel to see you through the next 3 months.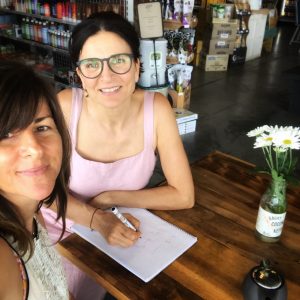 "Suzi has taken my passion and years of work and created something beautiful that has life and so much momentum.  She is amazing to work with and has infused confidence, creativity and strategy into branding and moving me forward."
@rebeccameganhealth
Fall in love with your brand all over again by harnessing your business passion, and together let's leverage that energetic momentum to create your next round of social media content.
 "The creative direction we received took our brand from zero to one-hundred in a few short hours. We left feeling a great sense of achievement and ownership over what we created and can't wait to move forward from the mind-numbing space we had been stuck in."
@thejunglecalling
Would you like more creative abundance and create 30 days of content in 2 hours?
Book in for my Passion Power Content Intensive to ignite your brand passion and get your content groove back on!
When you're in a space of passion, like falling in love, you open up a creative channel which expands your marketing opportunities. In your passion space words appear with ease, opportunities that were hidden show themselves and your intuition kicks in and takes control.
This passion vortex is the same space where your initial business idea was born. Thoughts bubbling to the minds surface with ease, ideas formulating that turn into intuitive action and set you on your path.  You know the feeling! You've felt it before. Entrepreneurs know it well! But most of us lack the tools or understanding to slip into this zone whenever we need it.
Because it's so much more fun!
Instead of creating one tedious post at a time, when in your passion zone, you will be able to create one month of content across all platforms – with ease!
Your posts will share a common thread infused with your brand vision creating more connection with your community.
Your business strategies will come from intuition and will be infused with confidence. They will also be game-changing to your business and industry. Why?
Because you have opened your mind to limitless potential where genius is born and leaders are created. You will also shut down your inner dialogue of market comparison and inner critic.
You need this Passion intensive if…
your business is busy and you have lost your creative flow,
you have always struggled with the creative aspect of your business,
you're great at the nuts and bolts but need help highlighting and infusing your brand vision into your marketing collateral,
you want to re-ignite your business passion,
you're feeling a lack of direction in your business and would love a creative boost, or
you would like to map out the next 30 days of content and would love loads of inspiration,
you have lost your social media ooomph and need a booster.
creative inspiration to infuse into your content writing,
to reignite your brand passion,
a new brand vocabulary to enhance all of your marketing and content,
a fresh new look at your business,
clear, doable strategies that bring clarity to your social feed,
a method of switching off the cogs and turning on the love,
a business strategist coaching cheering you on from the sideline,
to re-ignite your business romance, and
to fall in love again,
then this intensive is for you.
All you will need is;
Four (4) hours, broken up over 2 x 2 hour sessions
Pen and paper
An open mind
A desire for a passion fuelled business and new opportunities
That's a total of 4 hours, plus 30 day's of content coaching to keep you in your groove.
What you get;
Two x 2 hour sessions
the first session focuses on your brand narrative, uncovering hidden content gems already inside of you.
the second session takes your new brand narrative and translates it into 30 days of mapped out content.
Plus, after your second session I am your content coach for the next 30 days. I guide you, watch your feed and help you with content, technology and business strategy.

Yes for 30 days I stay with you and connect to ensure your new passion is infused into your brand. We talk regularly, I'm here with you for the journey.
Make your marketing fun and create a business that you love. Your love for what you do is the magnet that will attract your tribe and create the business of your dreams.
Your total investment is $800, paid in two instalments of $400.
What you get:
2 hour brand session, define your brand like never before using words and inspired vision.
2 hour content creation, a 30 day content plan, full of ignited content set to make your famous.
PLUS 30 days of content coaching as you write, post and measure your success. I'm with you!
I've helped many women on their journey to success and create the business of their dreams. Let me help you too.
Message me below to get started. We will book in a FREE 20 min chat to see if we are a fit.